Mother's Day Spa Special in Manhattan NY
A special treat for " Special Mom" in your life
Every woman deserves to be pampered, at Dyanna Spa we believe all moms should be given the "Royal Treatment".
To celebrate Mother's Day, we are offering the following spa special!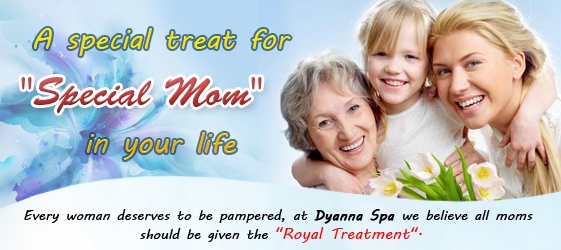 1) Olive Oil Manicure and Pedicure Regular price $75 –  Special Price $55
This  Manicure and Pedicure provides hydration   and relaxation for  tired  hands and feet  of any hard working mom.
2) Deep Pore Facial Regular price $90  – Special Price $75
Not only is this relaxing but it will make any tired skin look refreshed
3)
30 minute hot stone scrub and a Jelly pedicure with paraffin treatment  
Regular price $85 – 
Special Price $70
 Summer is almost here, have your skin smooth and silky with this exfoliation treatment.
4)
24kt Gold facial with gold foils  and Paraffin treatment on both hands and feet  
Regular price $130 –
Special Price $100
Your mom will thank you after this treatment, her skin will  be ravishing and glowing for days.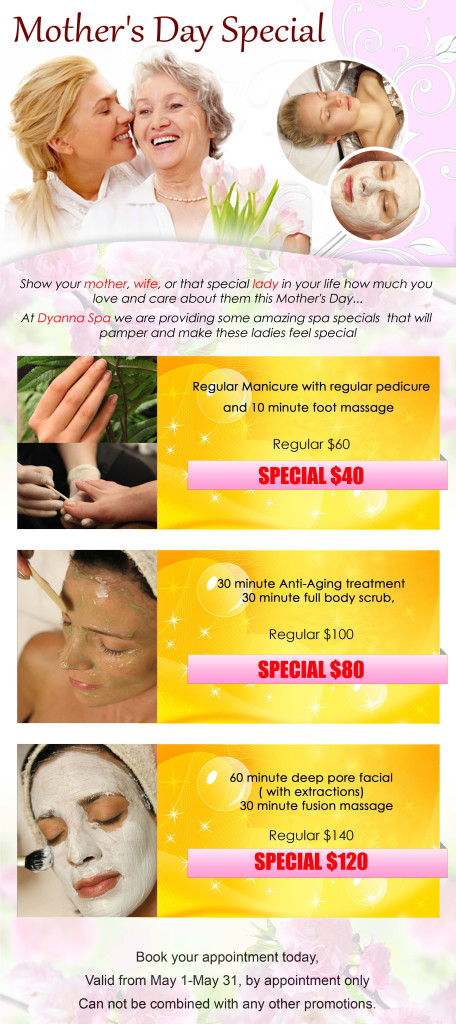 —
Gift Certificates Available for all Spa Services
You can purchase a gift certificate for any of our professional spa services.
Instant Online Spa Gift Certificates NYC may be purchased at our spa, online or phone.