Microneedling Anti-Aging Skin Treatment in Manhattan NY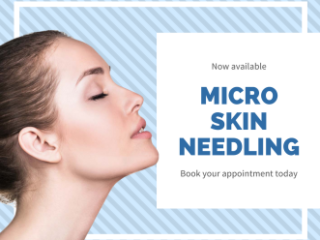 Microneedling Anti-Aging Skin Treatment is a gently invasive procedure that improves the look of scars, and/or boosts collagen. Simply put, microneedling is the insertion of very fine short needles into the skin for the purposes of rejuvenation. The result is a very obvious plumpness and flow of the skin for weeks following the procedure. It is often used to treat conditions including acne scarring, fine lines and wrinkles, loose skin, pore size, brown spots, stretch marks, and pigment issues.
The facial itself uses controlled micro-injuries in the skin to stimulate the body's natural wound healing process. However, the procedure does come with a bit of downtime with the first phase including inflammation. (Your skin might look as if it has been sunburnt.) The recovery time is individual but does require at least three days to minimize the appearance of the facial.
* Microneedling Skin Anti-Aging Treatment available only at the Flatiron location. Contact us to book Microneedling now.
TREATMENT TIME: 30–60 minutes
MINIMUM AGE:
• 16 years requires parental consent and supervision at
consultation and treatment
• 17 years requires parental consent
PREPPING:
• Client needs to prep min weeks on Vitamin A/C • Fitz 4–6 need to also use a Tyrosinase inhibitor
INDICATIONS:
• Scarring
Stretch marks
Oily/open pores
Acne/congestion
Rejuvenation/general redness
Fine lines/wrinkles
Premature aging
Hyperpigmentation
Skin tightening
UV damage
RECOMMENDED COURSE:
6–12 treatments performed at 4 weekly intervals for face.
6–12 treatments performed at 4 weekly intervals for body.
view all services